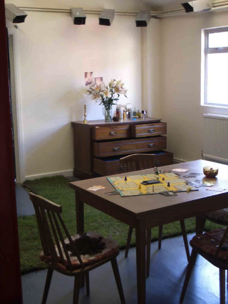 Lynn Andrews
Installation Artist & Sculptor
Lynn Andrews' practice crosses over various techniques and media but there is a strong textile connection within all her work which is usually large scale, whether it is an installation piece or ceramic sculpture. Her work centres on an emotional response from the viewer who is often invited to physically interact with the piece.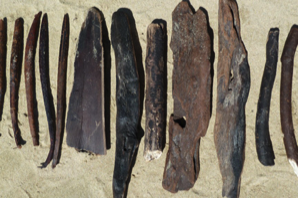 Anne Brown
Artist & Sculptor
My artwork in recent years has focused on site specific sculpture and installations linked to significant places and environments from travels around the wild areas in the UK and abroad. I use photography to capture transient work made from a variety of natural and found materials. I also create more lasting sculptural works and installations from both natural and man-made materials in response to my ephemeral pieces.
Anne has over 25 years' experience working in schools and educational settings as an Art Teacher, Head of an Arts Faculty and Advanced Skills Teacher. She has a 1st Class Honours Degree in Art and Design and an MA in Art, Craft & Design Education. She is also a qualified leader of outdoor activities and expeditions. Creating artwork has always been a feature alongside her teaching, but her MA in 2002 provided the stimulus to engage through her outdoor experiences in new ways, taking forward new ideas and working with different materials and on a much larger scale.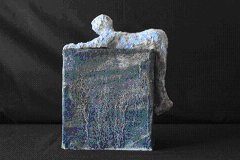 Dawn Carroll
Artist & Sculptor
Dawn Carroll's figurative drawing and sculpture explores the human condition inspired by environmental and social issues.
In present times with expansion of big cities and the onslaught of technology it has become easy to lose touch with nature and oneself. Dawn's recent sculpture is in response to our relationship with nature and lack of nature, from innocent childhood memories and their sense of wonder, to adulthood with its cynicism and indifference.
Life drawing is fundamental to Dawn's working practice and feeds into her sculpture. Her figurative work looks at our strengths and fragilities whilst endeavouring to keep a sense of humour, and spontaneity to help capture the true essence of the human spirit.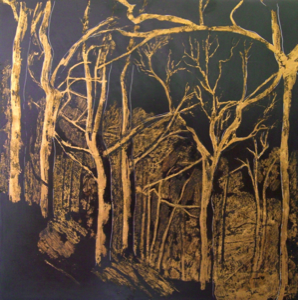 Lynda Cornwell
Fine Artist
Lynda Cornwell is an artist and tutor whose practice is based upon drawing, but which includes installation and photography. Lynda has taught in Further Education and privately for many years. She holds a BA in Fine Art Practice, an MA in Drawing as Process and is a City and Guilds qualified teacher. Lynda is currently working on various projects in the community including one for the 2012 Cultural Olympiad, refurbishing a Bird Hide near Tring.
"At the root of all my art is drawing — it is always the start point and sometimes the end point of my work. I use photography both as inspiration for, and a complement to my drawing. Sometimes my images become an installation."
"I use a variety of materials: inks to give vibrant colour, oils to create delicate blends and graphite and foils to add light and movement. I particularly enjoy using translucent and reflective materials incorporating anything that captures my imagination."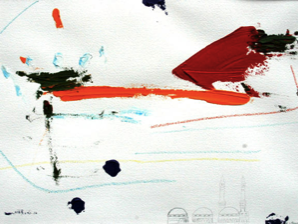 Rhonda Fenwick
Visual Artist & Film Maker
Rhonda's work is concerned with the creation of a sublime world that manifests in an ephemeral space between an art object and a spectator's experiencing of it; where art works come into being through the 'play' of others. How a work of art may come into 'being' through imagination, and also relates to our connectedness to Nature and how we interact socially with the world around us. Through play and imagination we can create spaces, places and worlds. We can re-connect through our feelings and responses to the sacredness of our lives and our relationships with self, others, objects and the spaces we inhabit.
Her practice is explorative and experimental, working across media, through the mediums of painting, drawing, film, photography, combined media installation, environmental art, text and dance.
Rhonda also works as a participatory artist in the Community,Voluntary, Public and Private Sectors using the arts as a vehicle to bring people together to work in collaboration.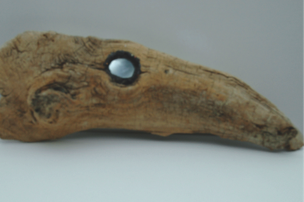 Andrew Logan
Sculptor
Andrew Logan belongs to a unique school of English eccentrics. One of Britain's principal sculptural artists, he challenges convention, mixes media and plays with our artistic values. Since its beginnings, Logan's work has depended on the inventive use of whatever was to hand. With flair and fantasy he transformed real objects into their new and different versions. His artistic world includes fauna, flora, planets and gods. His love of travel provides the bases for several series of work.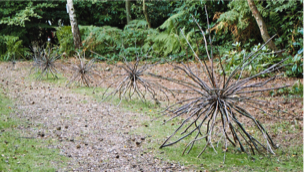 Gina Martin
Environmental Sculptor
Gina Martin works in wood and natural "found" objects, both in her studio and the environment in site-specific pieces. She also works in 2D and 3D using various materials and techniques.
She has also undertaken 'Artists in Schools' An accredited course leading to the Advanced Diploma in Professional Studies at the Institute of Education, in collaboration with the London Arts Board. Gina is a bronze and silver Arts Award Advisor and has studied Garden Design.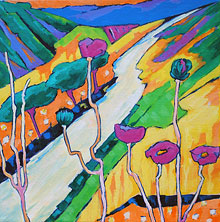 Annik McKenzie
Painter
Annik McKenzie born in France, lived in Canada, New York City and now in the UK. Her passion for colour was inspired by a visit to Musee Jeu de Paume in Paris when she was very young. It is where she discovered the works of Paul Cezanne, Vincent Van Gogh, Monet, Matisse, Derain and many other colour masters. She started to paint later in life when she met the right teacher in 1994 and has never looked back.
Annick's sense of colour is intuitive and describes her work as being an emotional 'coup de coeur' to places and an expression of feeling. It is all about the energy and the wonder of life and through her work she aims to communicate its essence. Working from sketches drawn en 'plein air' and taking photographs to help her recreate the magic feeling of the moment when back in her studio. Through her work she hopes to convey to the viewer vibrant and inspiring paintings in acrylics on canvas, wood panels and open edition giclee prints on paper and canvas.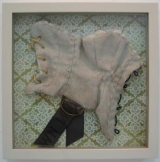 Suzanne O'Donnell
Textiles Artist
Suzanne O'Donnell designs and makes individualised clothing on a commission basis.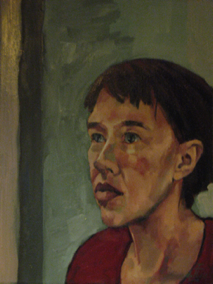 Inge Du Plessis
Fine Artist
About Inge: I was born in Cape Town, South Africa on new year's eve 1968. Painting and drawing have always been my passion, since my earliest scribbles. I studied fine art after school, but, disillusioned from my studies, I didn't paint again until I turned 30, when I started painting full time. I took a break from painting when my son was born in 2005 until 2010 when he started school and am now happily painting every day.
My paintings are stories about people - little film stills, some momentous, some capturing the instant before something happens. Sometimes I paint people as characters, set in a scene. I don't think of my own work as portraiture, as the 'plot' behind the subject is generally of far greater importance to me than an accurate representation or even an attempt to capture of the sitter.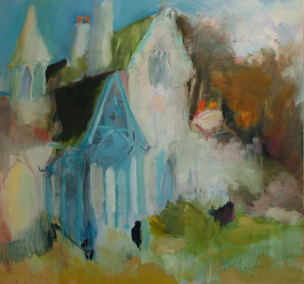 Claire Rollinson
Artist
Claire Rollinson has recently moved back to England after living in Northern Ireland. Her art practice includes the disciplines and expressions of drawing, painting, and printmaking with an element of storytelling running throughout.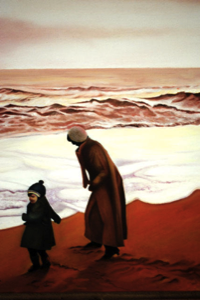 David Shoemark
Painter
David was born in Somerset in 1950 and brought up in a small farming community near Yeovil, attending the village primary, after which he was educated at Huish Episcopi Secondary School and Yeovil Grammar School. David trained as an art teacher at Bristol University's School of Education in Redland, specialising in ceramics, where he qualified in June 1971.